C & A Engraving and Gifts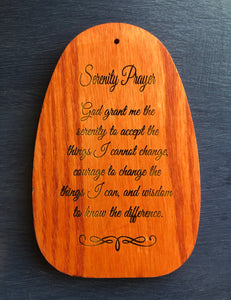 Personalized wind chimes engraved for a memorial or friend. Woodstock Chimes offers a unique variety of high quality, affordable musical gifts from around the world that inspire, entertain and bring pleasure to people of all ages. Their sound is out of this world.
---
These make great memorial, anniversary, birthday or retirement gifts. We take your clear digital photo and transfer it to a wooden board. Possible photo options would be a couple, a pet, a recently deceased relative, a newly born baby, a wedding or a favorite event. They can be hung on the wall or placed in an easel for an elegant display.
---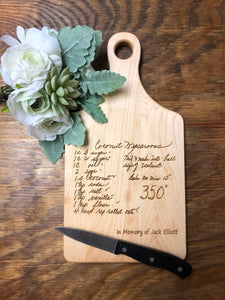 Cherish your heirloom recipes by placing them on a bamboo, maple, walnut cutting board or easel. We take your clear original recipe and photo engrave it onto a cutting board. The easel is able to fold down and lay flat or keep upright to hold your tablet or recipe book. There are also rectangular boards in bamboo and walnut.